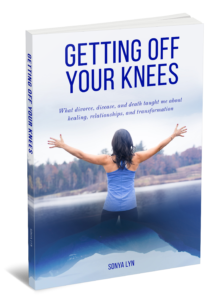 Coming Soon

Get notified when we launch!
Getting Off Your Knees is about stepping back into your power when you feel knocked down by life. When you feel lost and stuck, and question who you are and what is my purpose, why did this have to happen? The work and wisdom in these pages have helped men, women, and teenagers over the world heal and reclaim their power for happiness and health. We are the hero in our healing journeys and we have the power to heal ourselves. Crisis, divorce, death, and disease can knock us to the ground and turn our lives upside down and our insides out. These transitions and heartbreaks leave a giant void that no amount of financial success, material items, or addictive behaviors can fill. My journey from surviving to thriving was a very long arduous one. It doesn't have to take you as long as it took me. The only way to freedom and the mountain top was 1 step at a time. You don't have to do it alone, you are not alone, you are loved and I believe in you! You are not broken and it's time you begin thriving that way.~Sonya
Full Synopsis
I was broken open, lost lonely, and unfulfilled. This is the book I wish I had then. This is the book I want you to have now. So when you're feeling lonely, lost, and empty inside you'll know you're not alone.
My journey beyond divorce was a long one, and after 10 years of personal development, research, education, and training it became my passion to put together a resource for others to gain hope, and fast-track you toward healing, love, connection, inner peace, and freedom. I don't want it to take ten years for you. I thought I was a victim then, now I know this all happened for me to reach my unlimited potential and encourage others around the world. You can get to a clearing must faster, your road does not have to be as long as mine.
This is a working book. Knowledge is information; wisdom comes from taking action and walking the talk. I was an uneducated, unemployed, woman who was addicted to comfort and certainty. Codependency is a love addiction to others. I had to learn self-love, self-worth, and gain the confidence and strength needed to pick myself up time after time from all the messes I was creating and attracting around me. I learned that in order to heal, we must access the issues of our heart at a cellular level that our conscious mind cannot access on its own.
Getting Off Your Knees is about the journey from our head to our heart and soul for wholehearted living and thriving. The work and wisdom in these pages have helped men and women around the world heal and move forward during and after the journey of divorce.
I believe we can create our own life and live by our own rules for a balanced, fulfilling life, full of love, joy, and peace. If I can do it, so can you. You are never alone, you are loved, and I believe in you. All the freedom you ever desired is possible. I am living proof.